Does it happen to you that every time you are going to start a project it is very difficult for you to calculate the measurements so that your garment fits you as you want? Whether tight, loose or oversized, I use different tips for each case to make sure that my garment will fit the size I want.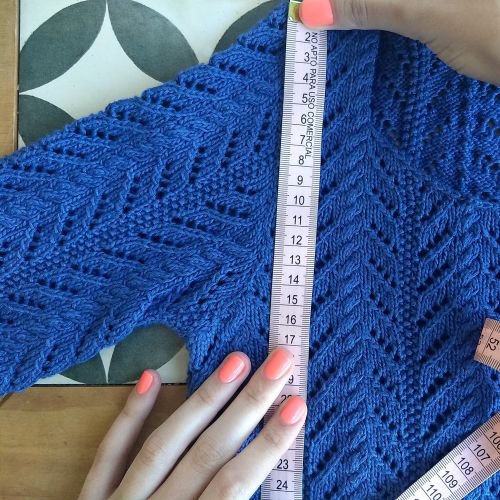 General tips:
~ First I take my measurements such as the circumference of my torso at the height of the bust, the length I want my garment to have taken from the shoulder, and the height of the armholes.
~ I choose a garment that I already have and is the size (more or less) that I want to use as a reference for my garment to knit. Always keep in mind that most garments give a little (as does the fabric).
~ We make a sample of at least 10cm x 10cm with the point, needle and yarn that we are going to use.
Here I leave you a few tips to choose yarn and needle for your knitted garments.
What is this sample going to do for us? Many times it is lazy to do it but it is super important that we do it because it will help us calculate the number of stitches that we will need to reach the measurements we want, we can also see how the fabric behaves if it is stretched and how much it is It stretches because it is something that we must take into account to decide the measure that our woven garment is going to have, and if in the best case you have a scale you can weigh that sample and it will give you an idea of ​​how much material you will need.
Specific tips:
~ When I want to make a garment that fits the body well, I calculate how much my sample stretches to know how many less cm I have to make to the width of my garment. For example: I have 85cm of torso circumference taken from the height of my bust (my width here would be 42.5cm front + 42.5cm back) and my sample stretches about 4cm, so the measurement that my fabric will have will be 85cm - The 4cm that my sample stretches = 81cm, if you knit in two parts (back and on the other front side) each part will have 40.5cm + 40.5cm that add up to 81cm in circumference.
~ When I want to make a garment that is loose (that is neither tight nor oversize) then the measurements that my fabric will have will be exactly the measurements that I take from my torso at bust height, following the previous example my fabric would have 85cm circumference, 42.5cm + 42.5cm if I knit it in two parts (back + front).
~ Finally, when I want to make a garment that is oversize, that is, very large, I calculate more or less between 16cm and 24cm more in total circumference, again following the previous example my oversize garment would have between 85cm + 16cm = 101cm and 85cm + 24cm = 109cm total circumference. This will always depend on the tastes of each one, so it is great that we can compare a garment that we already have to better match the measurements because we already know how it will fit us. Of course it is also a matter of cheering up and seeing how it looks, this will always be in each one.
I hope these tips help you to make the process of weaving your own garments easier (and so you don't have to unweave so much)!
A hug.
Bere.