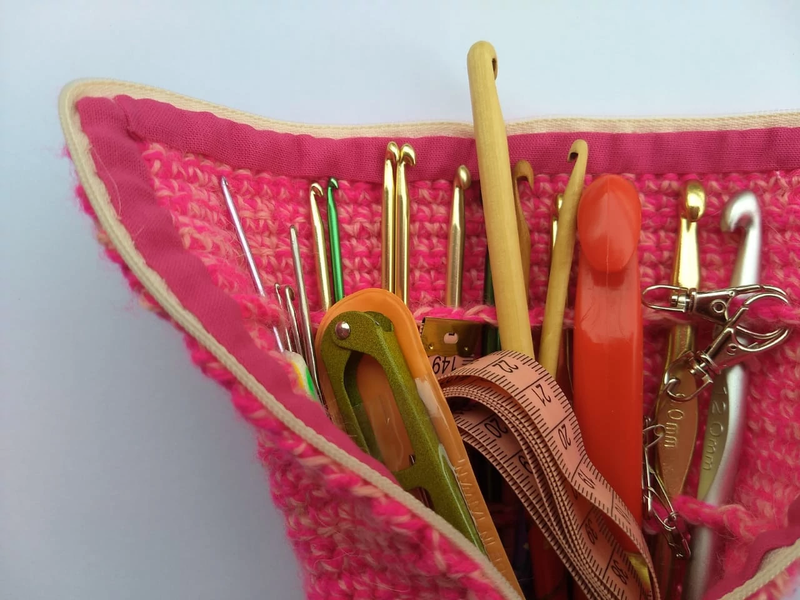 To make crochet super comfortable and be able to take all our work tools anywhere, it is essential to have a comfortable and practical case.
Today I teach you how to weave this case that besides being super cute, it is very easy to do. You will need very few materials and a few hours of your time.
So let's start !
Materials needed:
40 gr tiny acrilyc wool (I used two colours together), if you want you can use cotton wool too, or which you like for the indicated hook
1 closure of 11.81 inch.
Hook n° 3,5 mm/1.3 inch.
Used stitches:
Chain (ch)
Single crochet (sc)
We will knit in a round to the 7° row even.
1°- 6 sc in a magic ring
2°- 6 increases, two sc in each stitch of before row (we get 12 sc)
3°- 1 sc, 1 inc (repeat 6 times) (18 sc)
4°- 2 sc, 1 inc (rep. x6) (24 sc)
5°- 3 sc, 1 inc (rep. x6) (30 sc)
6°- 4 sc, 1 inc (rep. x6) (36 sc)
7°- 5 sc, 1 inc (rep. x6) (42 sc)
8°- Knit 41 sc. Without closing the row, climb a chain and turn the piece, and knit the 9° row front loop only of the before row (n° 8): (1 sc, 2 ch, skip 2 sc and make 1 sc) rep. 13 times, and finish with 1 sc .
Then, knit by back loop only of the row n° 8 41 sc to finish the 9° row (41 sc). See the following video for more detail.
10 a 21°- 41 sc.
22°- repeat 9° row steps.
23° a 32°- 41 sc.
33°- repeat 9° row steps.
34° a 43°- 41 sc.
To finish, once sew the closure, I sew a piece of cloth that matches the color of the bag to cover the seam of the closure, as seen in the photos. I also made a small lining for the base so nothing falls :).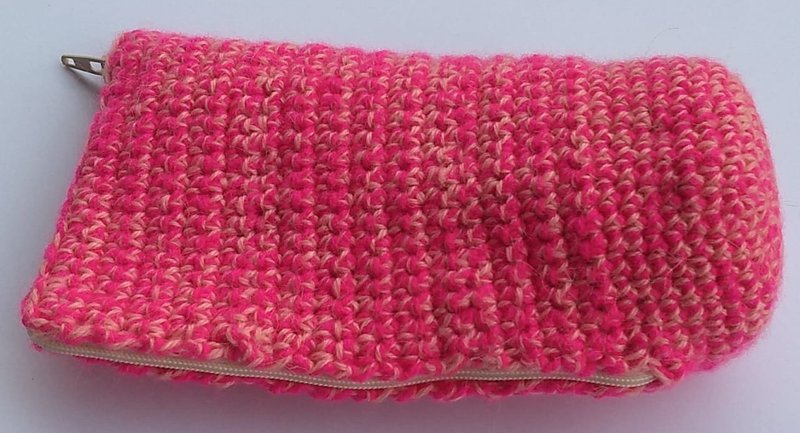 I still have a lot to learn about sewing so here I tell you that I made the seams by hand, if you have someone who knows how to sew take advantage of it! Or, of course, if you know how to sew, then get to work!