Hey girls! Here I show you how to create this scrunchie with crochet in only a few minutes! I'm going to guide you step by step so you can enjoy this crochet moment for you!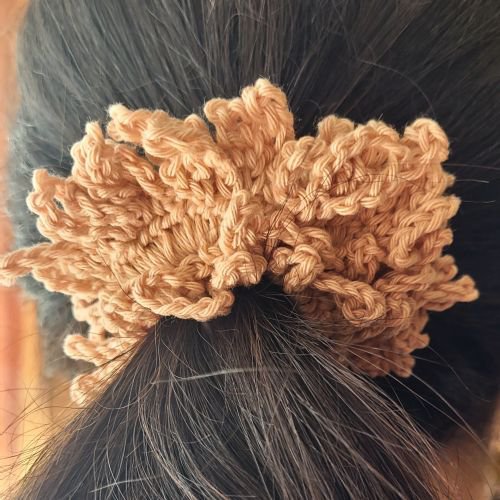 You are going to need:
-Crochet Hook 3.5mm
-Cotton thread for this hook, let's say 6 strands
-A piece of elastic or a simple tie for your hair to use it as a base of this scrunchie
-And of course scissors and needle.
You can watch this VIDEO to be sure you are doing it right!
Let's start 🤩
First you are going to do hdc (half double crochet) all around the tie, for me it was 88 hdc, take into account the number you finish with should be multipli of 2.
Then you close the row with the invisble technique (I show it in the video)
Now make 7 ch (chains) and make a sl st (slip stitch) in the following hdc from the previous row. The next is to do 10 ch and then sl st in the next hdc. You continue repeating the pattern until you finish the row. And that's it!
It's super easy to create this scrunchie, if it's hard for you, then you need to give you more time to practice :) You are going to make it, don't give up! Again you can watch the video if it's difficult for you to follow the written pattern.
If you have questions you can contact me on my Instagram @bemoon.designs
Thanks for reading this pattern until here! Send me your pics with your scrunchie, I would love to see how you did it 🤩