Hello weavers, how are you today??
In this post I show you how to make an easy big cosmetic bag with crochet and that you can decorate as you like, in my case I put some short fringes on the second row of the body.
Details:
Depth: 7.5cm
Height: 9.5cm
Width: 20cm
The material I used is 100% cotton and mercerized cotton (I used leftover threads from other projects, everything is used :) ). We are going to need 80gr approx to weave the structure of the case + another 10gr to make the fringes.
Crochet number 4.5mm
A 30cm closure
And enough fabric to make the cover/lining inside
All the closure and the lining are sewn by hand and I also show them in this post.
For the fringes we are going to cut 72 pieces of 10cm.
Before starting, I recommend to make a 10 x 10 sample to calculate based on that sample how many stitches you will need to reach the desired measurements. In this post I will be indicating the number of stitches that I knitted to make my cosmetic bag of the measurements that I want, which are the ones that I wrote above.
Alright, let's start!
This crochet cosmetic bag is made in 5 steps.
Step 1. First we are going to weave two equal rectangles of double crochet. This rectangle is going to be 36 double crochet wide by 8 rows tall. These two parts are going to be the front and back of our cosmetic bag.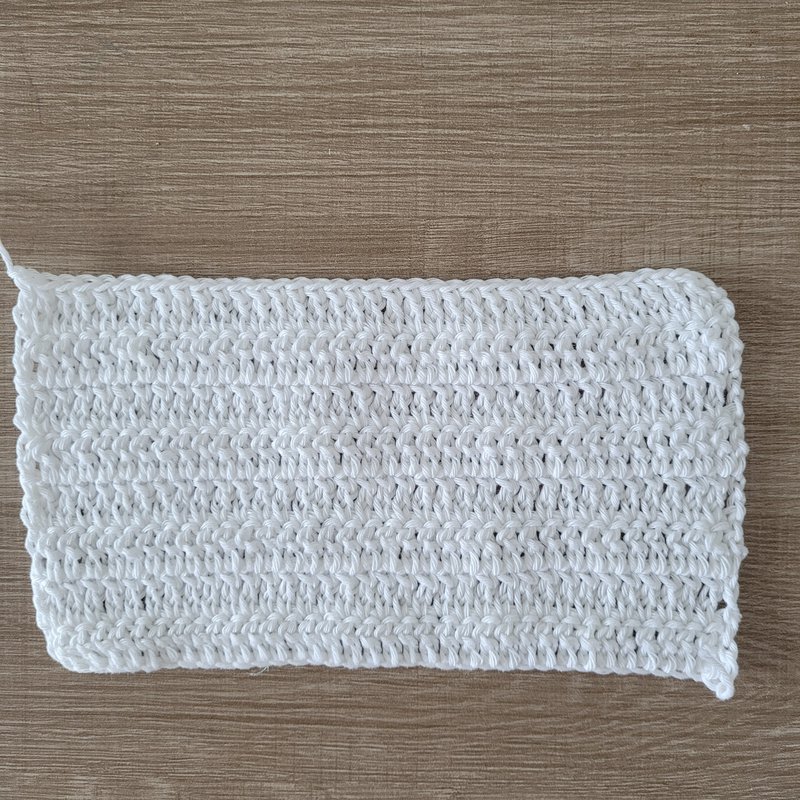 Step 2. Secondly, once we have knitted our two rectangles, we are going to knit in round as follows:
Knit 112 chains and make a slip stitch in the first chain you made.
h1-h2: I knit 112 double crochet.
h3: I crochet 33 double crochet, then make 46 chains, then 33 double crochet and close the row invisibly. I leave you here the video where I explain how to close rows in round invisibly.
h4-h5: I knit 112 double crochet. (The double crochet is knitted in each base stitch, this includes the chains as the base stitch, that is, you have to make a double crochet in each chain). I close with a slip stitch.
Note: the number of stitches for this part is calculated as 36+20+36+20=112. 36 corresponds to the number of stitches the rectangles we made before have as width, and 20 corresponds to the number of stitches that I am going to put in the 8 rows (3 stitches for one double crochet, 2 stitches for the next double crochet, 3, 2, 3, 2, 3 and 2=20). In the next step I will show you how I am going to join the three parts that we have knitted so far.
This part will look like this: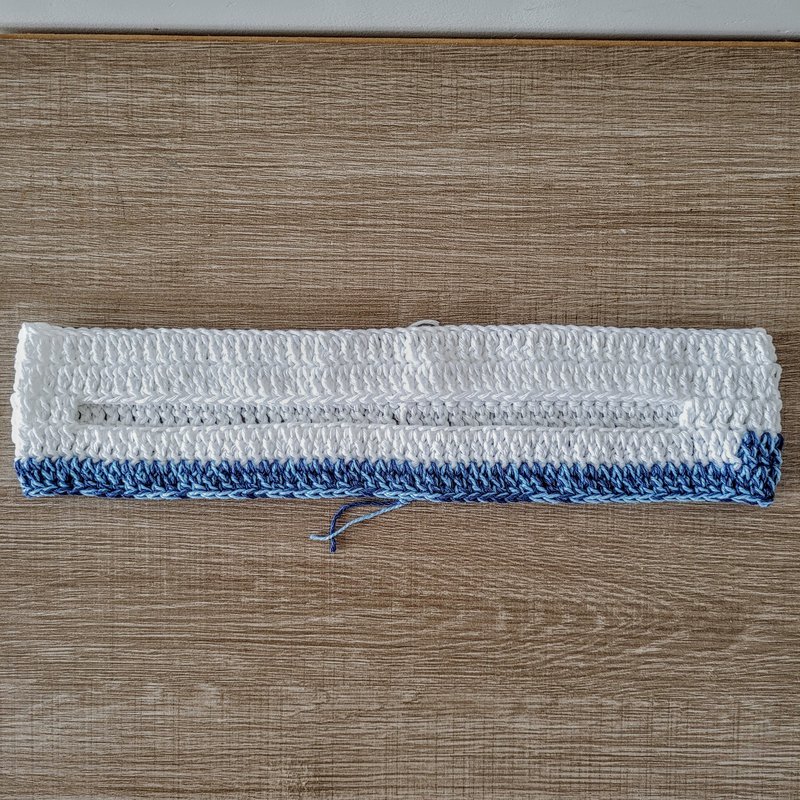 The space we leave in the middle is to sew the closure, which I do as soon as I finish weaving this part (it is more comfortable for me). Here you can see the video of how to close.
Step 3. The third step in creating this crochet cosmetic case is to join the parts we crocheted. Here you can see the video of how I do the union.
Step 4: We add the fringes. For this step you are going to cut 72 pieces of thread of 10cm, and we are going to place them in the following way.
Step 5: We sew the lining. Here I leave you a video of how to sew the lining