Hello crocheter! I show you how to make these super cute and easy crochet scrunchies! They carry very little material, you can use those extra threads or wools that you have left from previous projects.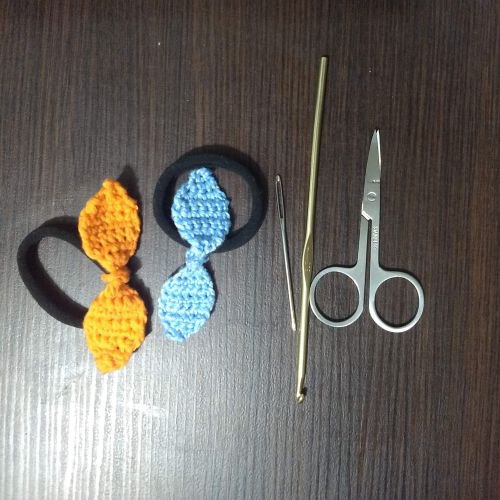 What are you going to need?
Crochet hook suitable for the thickness of the thread you have, in my case I chose a hook n ° 3.5 mm
Wool or yarn you have
Sew needle
Scissors
Let's do it!
This scrunchy is made only with sc (single crochet) and we are going to make decreases and increases. Here is the Video so you can follow it step by step.
Row 1: We start by making two chains, and then we knit a sc in the first chain we made.
Row 2: We make an increase, this is we make two sc in the first sc we made. We have two sc left in total.
Row 3: We make two increases, we will have a total of 4 sc.
Row 4: We start the row with an increase, we make 2 sc and then another increase in the last sc of the previous row. We are going to have 6 sc.
Row 5 to 10: We make, from row 5 to 10, 6 sc in each row, so we are going to weave straight without making decreases or increases.
Row 11: We start with a decrease, that is, we make two sc and close them together. We continue with two sc, and we end with a decrease. We have a total of 4 sc.
Row 12: We knit two decreases. We are 2 sc.
Row 13: We work a decrease. We have a sc left.
We cut and hide thread.
And that's it! Now we tie our bow to a tail that we have and it is ready! You can do it in many colors and it is a super good project to hang out and decorate our hair 🤩
I hope you liked it and if you do this little scrunchy share your pictures with me so I can share it here and on my social networks ❤️
Hug. Bere